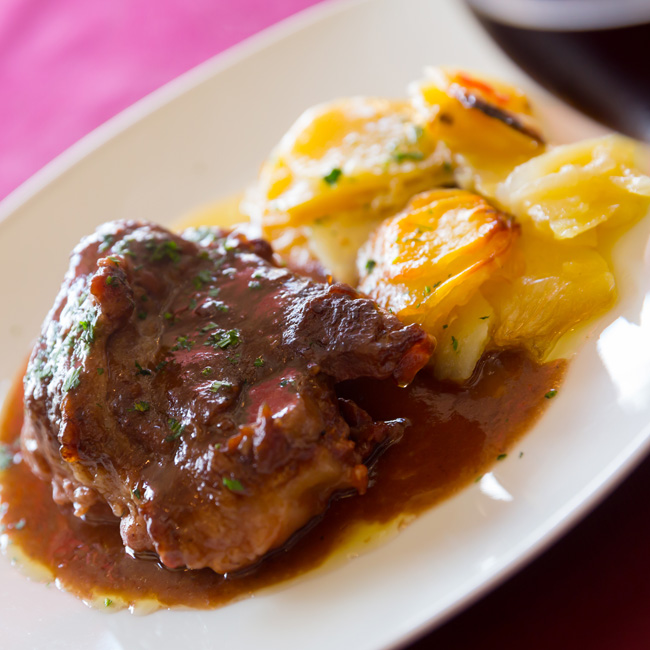 INGREDIENTI PER 6 PERSONE
– 500 ml of Lambrusco IGT wine
– 20 ml Extra virgin olive oil
– 600 gr of horse rump
– 280 gr of onions
– 80 gr of carrot
– 50 gr of celery
– 40 gr of butter
– 40 grams of flour
– 50 gr of sliced ​​Lardo di Colonnata
– 200 gr of tomato puree
– 5 gr of cloves
– 3 bay leaves

Preparation:
Put the piece of meat in a bowl with the wine for 12 hours.

Carefully drain the meat from the marinade, keeping the wine; dry it with a cloth or kitchen paper.

Wrap the meat with the slices of Colonnata lard (make them adhere well to the meat and fix them, if necessary, with string as for a roast).

Insert the cloves into the meat and flour it. Heat the oil and 2 tablespoons of butter in a saucepan (if you want you can also use the pressure cooker) brown the meat for 5 minutes, turning it on all sides with two tablespoons, add salt and pepper.

Add the wine from the marinade, the tomato sauce, add the whole bay leaf and the cleaned vegetables, washed and cut into 1.5 cm cubes.

Cook for 3 hours over low heat and covered pan (if it dries too much add 1-2 glasses of cube broth) when cooked, remove the meat from the pan, wrap it in aluminum foil to keep it warm. Pass the cooking juices with the vegetables in a blender, after removing the bay leaf, add the remaining butter into small pieces, mix 3 minutes with a wooden spoon over very low heat.

Slice the meat and arrange on a serving dish, cover with the sauce and serve.
IFC BLOG
SPAGHETTI CACIO E PEPE CON CREMA DI PECORINO E GAMBERI* Grazie Chef! @m.g_acasacucinoio 💪👏 #calzettispread#cremadipecorino#spreadcheese #Parma #primipiatti #ricettadelgiorno #italianfood #pecorino#spaghetti#cacioepepe#foodporn #foodphotography#cremaCalzetti#sùdigusto
Do you want a tasty but simple idea for tomorrow's lunch or aperitif (homemade 👩🏼‍🍳)? Et voilà the savory strudel, a very fast and highly effective preparation, an excellent alternative to the more classic savory pie. For our winter version we chose red radicchio, mitigated...
#calzettispread#cremadipecorino#spreadcheese #Parma #primipiatti #ricettadelgiorno #italianfood #pecorino#spaghetti#cacioepepe#foodporn #foodphotography#cremaCalzetti#sùdigusto