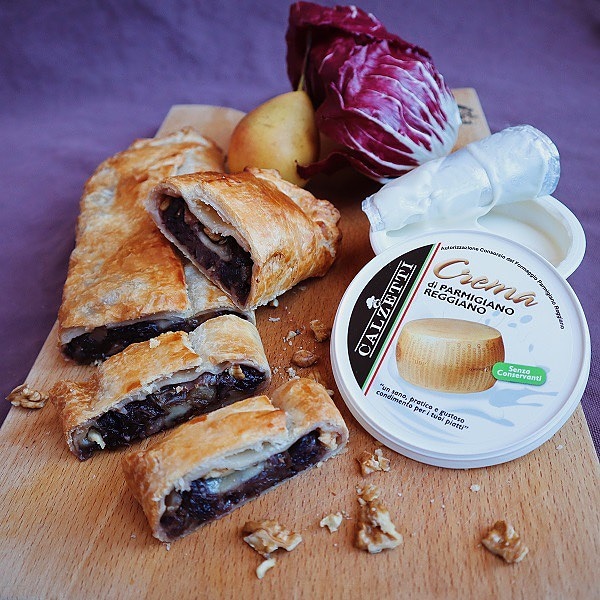 STRUDEL RADICCHIO, PARMESAN CREAM AND WALNUTS
Do you want a tasty but simple idea for tomorrow's lunch or aperitif (homemade 👩🏼‍🍳)? Et voilà the savory strudel, a very fast and highly effective preparation, an excellent alternative to the more classic savory pie. For our winter version we chose red radicchio, mitigated by the sweetness of the pear 🍐 and enhanced by the stringy cheese and the fabulous @crema_calzetti with parmesan 🧀, with a note of crunchiness given by the walnuts.
STRUDEL RADICCHIO, PARMESAN CREAM AND WALNUTS
INGREDIENTS: • 1 roll of rectangular puff pastry • 1 red radicchio • 80-100 g of spreadable cheese • 100 g of scamorza cheese (or provolone) • 1 pear • A handful of nuts • ½ red onion • Milk to taste to brush
METHOD:
Cut the onion into small pieces and heat it in a large pan with a drizzle of oil.
Wash the radicchio and cut it into strips, then add it to the onion in the pan.
Cook over medium heat for about 10 minutes, salt and stir from time to time. If it gets too dry, add a little water. Once the radicchio is well wilted and soft, remove from the heat and let it cool for a few minutes.
Meanwhile, dice the cheese and pear and preheat the convection oven to 190 ° C.
Combine the cheeses and the pear with the cooked radicchio and season with salt and pepper. Add the hand-chopped walnuts and mix everything well: the filling is ready!
Unroll the puff pastry and fill it in the center with the filling. Close the roll for the long side first with a flap of dough and then with the other and finally close the two short sides as well.
Brush the surface with a little milk and bake in a ventilated oven at 190 ° C for about 25 minutes, turning the pan for even cooking. The strudel should be golden brown, but be careful not to let it burn! Allow to cool and serve lukewarm, so that the filling has a way to settle and the slices can be cut without problems.
@crema_calzetti #cremadiparmigianoreggiano#cremediformaggiocalzetti#Calzettispread#italianfood#lovefood#Sùdigusto#cucinachepassione